by Katherine Applegate
5 Stars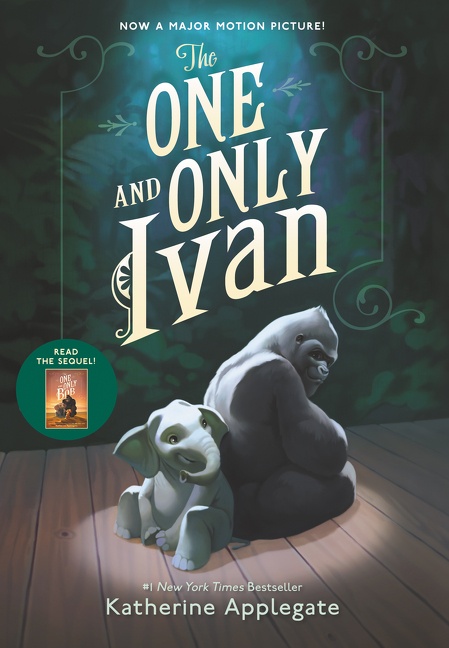 The book, The One and Only Ivan, is about a Gorilla on his epic journey to his home, the zoo. The novel is written in the first person from the point of view of Ivan, a gorilla. Ivan and his friends all work at Exit 8 Big Top Mall and Video Arcade. In this mall, Ivan and his friends try to catch people's attention, by running a circus. Ivan and his friends all work for Mack, who's a stubborn man and only cares about how his business is going, not his animals. On his journey, he meets lots of new friends. That die and survive. Some of the main friends that he meets on his journey are Stella, Bob, Ruby, etc. Stella's an older elephant, Bob's a dog, and Ruby's a baby elephant.
All of these characters provide great help to Ivan, but Ruby is the one who can change Ivan's life forever!
Ivan lives in a domain where there is a Genitor named George, who has a daughter named Julia.
Julia is a human and one of Ivan's best friends. One thing in common between the two is that they both love art!
In my opinion, the book, The One and Only Ivan is a great read! I like the main message of the book, storytelling. One of the ways they used storytelling in this book is when Ivan can't sleep he goes to Stella to listen to a story from her past. Another reason why I liked this book is that it gives a really strong message to never give up! Ivan goes through a lot, but eventually, he gets to his home, the zoo. I would prefer this book, for all ages.
"This beautiful, life-affirming story will soar directly from Ivan's heart into yours." – Katherine Applegate
Ahmed Q.
View in Library Catalogue: Print | Downloadable Audiobook | Audiobook CD | eBook